TOURING LETTER NO.2
For group leaders, (large groups on a bus)
The land of Israel is here, waiting to be seen and enjoyed. All you need to make a trip happen is a group, a guide, land arrangements (hotels, a bus, etc.), and a plan of action. One problem at a time.
1. THE GROUP:
Sorry, that's the one part I can't help you on. You need to encourage your people to see Israel, and be keen on it. If it helps, I have made three video cassettes: Jerusalem Cardo, Sea of Galilee, and Massada - spin-offs of HELLO JERUSALEM - which may enthuse the audience. You can order them from the distributors, SISU, New York, tel. 1-800-393-4624. You/they can also see me a lot on a series called MYSTERIES OF THE BIBLE, broadcast on the A&E Network.
2. THE GUIDE: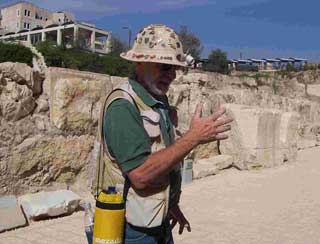 Whether we travel together depends on the usual considerations: time and money. My time gets booked up some months in advance; if you want to travel with me the first thing to do is to suggest dates so that I can check my calendar. In the worst case, if I'm not free, I can put you in touch with a colleague; there are half-a-dozen friends I recommend without reservation. You will be in good hands.
3. FINANCES:
The financial part of the trip works out as follows:
I cost $300. a day for my professional services.
I get paid by you (a personal check works best for me), in dollars.  I prefer not to be paid by a local Israeli travel agent.
4. ON TIPPING:
While we are on the subject of money, I need you to know at least one rule. When we have a separate driver (not me), he needs to receive a tip at the end of the trip. $5. per person per day is an acceptable sum.
5. LAND ARRANGEMENTS:
You will need a travel agent to do plane tickets, land arrangements, etc. You may already have one to whom you are committed, and he/she may be tied to an Israeli correspondent. If so, well and good. If not, I can arrange everything for your trip at a competitive price. Guaranteed.
6. ITINERARY:
There's no mystery to making an itinerary. Just THINK CIRCULAR:
Day 1. Leave USA.
Day 2. Arrive in Israel. I prefer to go from the airport to Tel Aviv. Planes usually arrive late in the afternoon, so there's not much to be done that day except an introductory meeting/talk in the evening.
Day 3. That first day of touring should be easy and introductory (to get over jet lag); a trip to Jaffa is a good way to begin to talk about the country and the Diaspora Museum is a good background to the Jewish experience.
Day 4. The second day of touring takes us north up the coast to Caesarea, then to Megiddo. We should sleep in Haifa
Day 5 should be in the Lower Galilee; Zippori, (Nazareth, if it's a Christian group) and sites on the shores of the Kinneret. Overnight on/near the Kinneret
Day 6. We go to Safed and the upper Jordan Valley.
Day 7. The Eastern Galilee and the Golan.
On day 8 I would head for Jerusalem, through the Jordan Valley, stopping at Beit Shean, Beit Alfa, and around Jericho on the way.
Days 9, 10, 11. (I need three days) for Jerusalem, doing all the history/archaeology/old stuff in the mornings, and museums, etc. in the afternoons.
Day 12. Massada & the Dead Sea
Day 13. Departure
Now I just made you the perfect tour, in my opinion. You have done the country nicely, and easily, in 12 days of traveling "Days of traveling" is net time. We need to leave a day free (Shabbat if possible) as a day off; we all need a rest from each other at least once a week. People have to go shopping! All together you have spent 13 days in Israel. Add flying time and you have got to 14-15 days away from home.
The above is a fairly standard itinerary, by the way. The only radical change that gets made in such a schedule is a trip to Eilat and/or Jordan, in which case everything has to be re-arranged. I don't recommend that, however, at least not for people for whom this is the first visit to Israel, unless you have A LOT of time. And certainly not in summer.
The other possible change is, of course, to do this itinerary the other way around, starting in Jerusalem. Many groups start in Jerusalem. I sometimes like saving Jerusalem for last, but it's not a matter of principle for me. Remember that the itinerary is only a framework. We're not accountable to anybody but ourselves; our only commitment is to be in a certain hotel by dinner time. In fact, the only reason to worry about itinerary at all at such an early stage is that you have to book hotels as early as possible to get what you want. Hotels fix your framework.
We can change and squeeze this plan in a lot of ways; see how your calendar and budget works and we will talk more. One final word about itinerary; it always changes as we go along, but in principle I have to know what you are planning -- routes, meetings, etc. -- well in advance. It is important that we talk continuously and a lot about that, and that we agree, at least in outline. I won't guide an itinerary that I'm unhappy with.
7. HOTELS:
I can offer advice on which kinds of hotels to stay in. Ask me if you need help. Many groups like half-board (breakfast and dinner) arrangements. We do need half board if we go out to a kibbutz guest house but I think it's smarter to book only bed-&-breakfast in the cities. Remember that hotel dinners are expensive and usually not very good.  Never book full-board; pre-arranged lunches are a big pain in the neck.
8. LUGGAGE:
This is a controversial subject, but I'd like to really encourage everyone to TRAVEL LIGHT. Israel is an informal country; you need very few clothes. It will not rain unless you come in winter, and you are not likely to be invited to dinner with the President of the State. Nobody needs a tie or jacket or fancy ball dresses. Only one nice thing for Shabbat, and simple clothes for the rest: jeans, shorts, a bathing suit, a hat (EVERY MEMBER OF THE GROUP MUST HAVE A SUN HAT), a pair of sneakers you can walk in -- NEVER come to travel with new shoes! -- clogs/thongs for the Dead Sea beach (really important); at most one medium suitcase per person. I can't tell you how awful it is to have to load mountains of suitcases in the bus every morning. I've done it, too often! We once even had to hire a van to take suitcases that wouldn't fit in the bus! So please set a tight limit on the luggage, and stick to it!
9. EGYPT and JORDAN:
I personally think Egypt and Jordan are terrific, and very much worth 5-6 days for Egypt and 3-4 days for Jordan if you can spare the time. But that is a big "if"; I absolutely do not approve of squashing Israel just to manage a day or so of Jordan. It's bad for me, bad for the group, and bad for Jordan. We like both countries very much, they are only a bus ride for us, and we've been any number of times. But I would only go in mid-winter. Otherwise it's too hot. If you do decide to do Egypt, though, do it before Israel, not afterwards. That's really good advice, based on years of experience. You can put Jordan anywhere in the Israel trip, provided you make extra time for it.
10. OTHER STOPS:
You will want to consider this carefully. The temptation to add things on to a trip to Israel is almost irresistible. As long as you've come so far from home you may as well do a bit of Italy, and England is marvelous, etc. etc. My advice is to try to resist this temptation. When you squash too much into any one trip you find yourself running breathless from place to place, not in control of your time or your wits. In my business we call it the "It's-Tuesday-it-must-be-Belgium" phenomenon. And the problem is especially critical when traveling with kids. So unless you're going away from home for a long time (3-4 weeks), which most people aren't, be careful what else you add on. It can be physically and emotionally counter-productive
11. BANKING:
Here is more good advice. There is no longer any reason to bring money of any sort to Israel when you come. Not cash or Travelers Checks. The secret is to bring your ATM card and to know the PIN (which must be 4 digits only), to any ATM,  just take shekels out of the wall. No long lines, no commission, and a very good rate of exchange. As long as your card is either Cirrus, Honor or Plus and the PIN is right it will work. Guaranteed. You can also get cash with any VISA card, provided you know the PIN number.
12. YOUR WALLET:
Most people live with a ton of stuff loaded into their wallet. But wallets and purses do occasionally get lost or stolen. And the money is usually the least important of the losses. So the smart move is to leave everything you absolutely don't need: extra credit cards, museum passes, store cards, memberships, bus passes, drivers' licenses, charge cards, opera subscriptions, etc. etc. All the stuff you really don't want to lose should stay at home when you go traveling.
13. THE CAMERA:
In my experience, 99% of everything that ever went wrong on a trip concerned the camera. It got broken (I know where there are labs to repair cameras), or it doesn't work the way it should because the tourist doesn't know how to operate it.  Therefore, my firm advice: if you bring a camera along, especially a new one, be sure to bring the Instruction Manual also, so we can try to figure out what's going on.
14. COME EARLY IN THE WEEK:
I have been making itineraries for many years now. And have come to the conclusion that it is definitely better to plan to arrive in Jerusalem early in the week. Leave the USA on Sunday/Monday, arrive the next day, spend a few days learning your way around the city, and then it's ok to take a day off for Shabbat. Otherwise, people who arrive on a Thursday or Friday find themselves lost when given a free day for Shabbat.
15. CELLPHONES:
Be sure your cellphone will work. Many of them do, but I have found that others, especially new and fancy iPhones, etc. don't/won't. So if you are planning on bringing a cellphone with you, check with the local dealer that it is unlocked, so you can change the SIM card if necessary, and/or that it will work in Israel. You can order a cellphone from your home via the internet, if you choose. Alternatively, I have a spare pre-paid cellphone which you are welcome to borrow for the duration of the trip.
IN CONCLUSION
This letter is already too long. But I hope it gives you enough food for thought and planning. Stay in touch, and try to let me know as early as possible if you want to travel so that I can hold time for you. Feel free to phone me at my American direct line (321) 251-4744, or even better, through e-mail: walterz@netvision.net.il
PLEASE NOTE
I require a deposit of $250 to reserve my time, once you decide the trip is a go.
Thank you for your patience in reading